The Pursuit of Happiness
"Happiness isn't something to be sought, it happens naturally when your life works, This book shows how to get your life working at each of seven fundamental levels."
Seven Simple Steps to True Happiness
David Pond, author of bestselling Chakras for Beginners, offers unique and easy-to follow guidance for experiencing true happiness in your life.
The book describes all seven dimensions from which we experience life—our physical identity, emotions, willpower, heart center, thought patterns and intuition, imagination, and spirituality—and gives practical methods for developing and integrating each of these aspects. When you are fully engaged at each level of your being, you gain a multidimensional awareness that serves as a powerful source of strength and inspiration.
Compatible with any spiritual path, this holistic perspective helps you create a richer and more fulfilling life, from overcoming everyday challenges to finding your life's work to becoming a better partner and friend.
---

Mapping Your
Romantic Relationships
Strengthen Your Love Relationships
Use astrology to discover the essence of what you cad do and be together

Relationship astrology is a tool for creating a portrait of your unique relationship needs, and creating a "combined energy" portrait between you and your romantic partner. Once you have a clear picture of your hopes and fears, skills and needs, both as individuals and as a couple, you can use that knowledge to enhance and intensify the bond between you.
With the Mapping Your Romantic Relationships guidebook and CD-ROM set, you can generate comprehensive, insightful reports quickly and easily, while learning the essentials of relationship astrology at your own pace. It starts right at the beginning with the basics of astrology, then shows you step-by-step techniques for deciphering the mysteries in your birth chart concerning your relationship needs. Finally, it guides you through the process of comparing your chart with another's, revealing the strengths, opportunities, and challenges of your union. The CD-ROM also includes hard to find Chiron interpretations. With the help of this book and CD_ROM set, strengthening and enriching your romantic relationships has never been easier.
The CD-ROM is for PC Format with Windows 95/98/ME/XP, and was developed by Cosmic Patterns, a leading developer of astrological software.
---

Western Seeker, Eastern Paths

Many Paths to the One
To walk the Eastern path is to embrace mystery—to accept that there are subtle realms of consciousness beyond the rational mind. Western Seeker, Eastern Paths helps Westerners explore the philosophical underpinnings of Taoism, Buddhism, Hinduism, and Tantra.

It is not that one mystical tradition is ultimately the best; it is that there are many nuggets of truth that can be gained by exploring each tradition. Our shrinking world requires us to step outside of our separatist ways and seek to better understand each other. You needn't take a religion in total to benefit from a particular insight that you might be able to incorporate into your spiritual practice.

This book offers specific practices, meditations, and techniques for implementing these ancient teachings in your modern life. You will learn techniques for gaining a peaceful mind, accessing the inspiration that comes from following spirit, and experiencing the depth of meaning that arises by listening to the needs of the soul.
---

Book Kudos: Chakras for Beginners recently received recognition by the Coalition of Visionary Retailers as a runner-up in the alternative health category of new books this past year.

Synopsis: Chakras for Beginners- A Guide to Balancing your Chakra Energies.

You don't have to be a Hindu yogi to live a healthy life in body, mind and soul. The universal life force of chakra energies already exists in all of us, and Chakras for Beginners will guide you on your way.

The seven spinning chakras of energy, positioned from the bottom of your tailbone to the crown of your head, receive, store, and express energy by interacting with the universal life force. Your health and well-being depend on the ease and freedom with which this energy flows back and forth between you and the universe. Knowing and realizing your chakras is one of the most effective means of balancing your life and accessing the various levels of consciousness available to you.

Chakras for Beginners will introduce you to each of the seven chakras and will help you realize your inner energy and true self. Through exercises, practical applications and essays, you will be inspired to discipline your spiritual will and bring your physical body into alignment with your consciousness.

Synopsis: Most of what is published about astrological relationships covers the same ground. We've all read that Libra gets along well with Leo, Aries is bound to clash with Capricorn, Pisces and Scorpio are natural lovers, and so on. It all sounds like a pretty well-worn formula, but there's one problem--people are not that simple, and neither are relationships!
Astrology and Relationships takes a much more satisfying path, showing you how astrology can help you improve all of your relationships. It addresses the complexities of real relationships by revealing the essential nature, needs, strengths, and challenges of every combination. Then it takes the unique step of offering exercises that will help you manifest the true potential that exists between each of the signs.
Here is a quote from Maria Kay Simms, Chair, National Council for Geocosmic Research: "Pond presents astrology as a model for understanding harmony within change. Throughout his book, he skillfully demonstrates his premise not only through interpretive text, but also through exercises and meditations that can be used by individuals and partners to increase awareness and self-understanding. It is these exercises that I feel are a major feature that sets this book apart and above so many of the other books that deal with relationship astrology."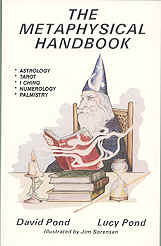 The Metaphysical Handbook, , by David and Lucy Pond. This book is becoming a classic in the field, now in its Eleventh Printing with over 20,000 copies sold! This is a handbook for learning the basic metaphysical techniques of astrology, tarot, I Ching, numerology, and palmistry. You are taken step by step through each of the disciplines so that even without prior experience you can personalize the information and begin applying it to your life immediately.
One needn't be a serious student to benefit from the expanded perspective on life that studying metaphysics offers. Even a casual involvement can sharpen your intuition and give deeper meaning to your life.